Our History:
Our shop was originally founded in 1913 in Ansbach by Georg Hedel as a glazier's workshop, but soon enough also the framing and selling of pictures was part of the business. After son Adam Hedel took over the shop in 1937, the branch of business for art & frames was operating under the name of Kunsthandlung Adam Hedel.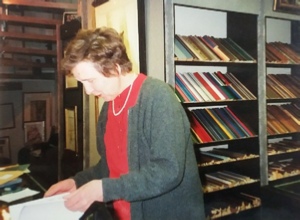 Since 1971 both branches are being operated as separate businesses, both meanwhile in the fourth generation. Whereas the original glazier's business (today: Glacryl Hedel GmbH, also in Ansbach) was continued by the grandson and great-grandson of the company's founder, his granddaughter Marga Maurer took over the art-dealing, including framing works.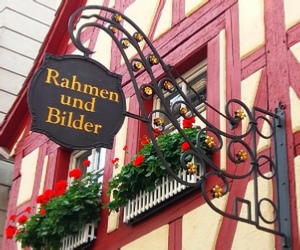 Our original shop was situated in the Pfarrstraße, but in 1982 we moved into the historical timber-framed house in the Platenstraße 4, which for this purpose was extensively renovated and refurbished. The building, whose history dates back to 1565, was used as a bakery for many centuries. This can still be seen by the guild symbol (pretzel & bun) on our historical entrance portal (Article about the history, 1986, in German).
Since the founding of our art shop, it has always been important to us to support the local and regional art & culture scene and to get involved with respective projects. For instance, several exhibitions have already been organized together with the city of Ansbach and the Markgrafenmuseum, the most recent one being a special exhibition about local painter Gottfried Scheer in 2016 (Article about the exhibition, 2016, in German).
Since the end of 2016, our business is being continued by the long-time employees and the grandson of Marga Maurer, with all of them aiming to continue it in her best interest.
(All linked articles were kindly provided by the Fränkische Landeszeitung, FLZ.)